Do It Yourself Garden Edging
Cowra Concrete Products Interlocking Garden Edge is an economical, easy-to-use, DIY garden edging solution, suitable for straight or slightly curved edges. Interlocking Garden Edge is offered in a choice of five colours to suit a range of garden designs and plant arrays.
Garden Edge Dimensions
390mm L x 190mm H x 75mm W
2.5 lineal metre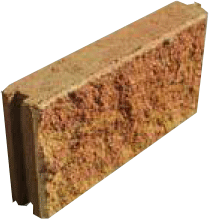 Interlocking garden edge detail.
Find out more about Interlocking Garden Edge
Call Cowra Concrete Products on (02) 6342 1194
Colour range
Click on the image below to advance through the five colour choices.
Colours displayed on the website should be used only as a guide. The actual products may differ from the way they appear on the site due to photographic and screen limitations.
Store display stock may also differ due to batch variation. Obtain samples from Cowra Concrete Products for the current batch colour, and ensure you order sufficient product at one time to complete your job, to avoid batch variation. Surplus blocks are not returnable.
No claims after 7 days or once products have been incorporated in construction.