RETAINING WALL – NORFOLK BLOCK
Norfolk® block retaining wall systems are designed and manufactured in Australia for local conditions. The Segmental Retaining Wall Systems (SRWS) are suitable for constructing strong, durable aesthetically pleasing walls for commercial and residential projects.
With split face rock textures and natural tones, Norfolk® blocks will enhance your landscaping and add value and usability to your property.
The Norfolk® SRW system has been extensively tested in the lab and in the field.
Norfolk® block retaining wall systems offer the following benefits:
• Do-it-yourself economical retaining walls
• No mortar required
• Structurally sound
• Low maintenance
Norfolk® is a registered trademark of Baines Masonry Blocks Pty Ltd and is used under licence.
Details of the Norfolk® system
| | |
| --- | --- |
| Block height | 180 mm (plus 10 mm tab height) |
| Block length | 390 mm |
| Block depth (into the embankment) | 190 mm |
| Block weight | 18.5 kg |
| Capping block weight | 21.5 kg |
| Setback distance per block | 55 mm |
| Wall slope | 17 degrees (55 in 180) |
| Infill behind and within the facing blocks | Compacted 10 to 20 mm crushed rock aggregate |
| Bearing pad | Compacted 10 to 20 mm crushed rock aggregate |
| Drainage pipe | 100 mm diameter PVC agricultural pipe with sock |
Application
The maximum height permitted for straight and serpentine Norfolk® block retaining walls is 900mm (four blocks at 180mm plus one capping block at 180mm).
If you are intending to use Norfolk® block retaining walls to support higher embankments please seek the advice of a competent civil or structural engineer; walls must comply with the Australian Standard AS4678 Earth Retaining Structures.
It is the owner's responsibility to determine if council approval is required for retaining walls, regardless of the wall height or site conditions.
Click here to download the Tasman® and Norfolk® Retaining Wall Evaluation and Installation Guide for the basics on how to construct segmental concrete gravity retaining walls and concrete reinforced soil retaining walls.
Check with your local council to ensure compliance with all local building codes.
Calculating Block Quantities: Example
20 metres long x .9 metres high = 18m

2

x 14 blocks per m

2

= 252

Less 

20 lineal metres x 2.56 capping blocks per metre = 52 capping blocks required overall
Blocks required for complete job = 200 Norfolk Blocks 

+ 52 Norfolk Capping Blocks
Retaining Wall Designer
Our Retaining Wall Designer is a free online tool for creating engineering designs for retaining walls using our Tasman® and Norfolk® blocks.  The tool has two operating modes Basic and Pro.  Use the tool to design reinforced cantilever, segmental gravity and segmental reinforced soils retaining walls.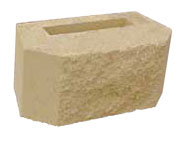 Norfolk Wall Block
390mm x 190mm x 180mm
1m2 wall = 14 blocks
18.5kg
72 per pallet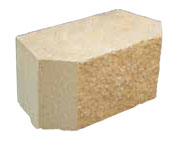 Norfolk Capping Block
390mm x 190mm x 180mm
1 linear metre of capping = 2.56 blocks
21.5kg
72 per pallet
Colour Options
Norfolk® concrete retaining wall blocks are available in the following colours:
Disclaimer
Colours displayed on the website should be used only as a guide. The actual products may differ from the way they appear on the site due to photographic and screen limitations.
Store display stock may also differ due to batch variation. Obtain samples from Cowra Concrete Products for the current batch colour, and ensure you order sufficient product at one time to complete your job, to avoid batch variation. Surplus blocks are not returnable.
No claims after 7 days or once products have been incorporated in construction.